Episode #7
How the nuns saved Obamacare
Podcast: Sister Simone Campbell, of the Nuns on the Bus, tells an amazing story. Plus, Pope Francis!
In the final days before the bill passed, who saved Obamacare? Catholic nuns. Sister Simone Campbell—one of the most charming, utterly down-to-earth, and profoundly committed people I've ever met—explains why. And in the process, she tells her own fascinating story, from an anti-segregation sit-in where, as a teenager, she decided to take her vows, all the way to the present and her delight in the joyous tone set by Pope Francis.
If you're glad that Obamacare is finally here—that millions of Americans are, at last, covered by health insurance—then you'll love this mini, Christmas-inspired episode of The Good Fight.
We'll be back on Jan 9 with the next full episode of the show, featuring a new Win Report, comedy, and fresh stories of people people changing the world. In the meantime, be sure to subscribe and post a review on iTunes, and start a petition with our sponsor and partner, MoveOn.org!
Plus: we're hiring. Want to be our Associate Producer? Apply now!
Originally posted on December 20, 2013
Featuring
NETWORK
A social justice lobby led by Catholic Sisters.
Powered by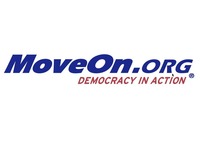 MoveOn.org
8 million progressives fighting for change.
Show Notes
SHOW NOTES
The climactic blow-by-blow:

Monday, March 15, 2010: the President of the US Council of Catholic Bishops writes in opposition to Obamacare, announcing that "the Catholic bishops regretfully hold that it must be opposed".
Wednesday, March 17, 2010: NETWORK publishes its letter. The nuns contend that "For us, this health care reform is a faith mandate for life and dignity of all of our people."
Sunday, March 21, 2010: the US House passes the Affordable Care Act, 219-212. If four votes had switched, it would have failed 215-216.

Check out the Vatican's official censure, titled "Doctrinal Assessment of the Leadership Council of Women Religious."
Also, here's a little background on the technical meanings of "nun," "sister," and "women religious."
The New York Times called the Nuns on the Bus Tour "a spirited retort to the Vatican." The whole story's great.
Credits: music, sound effects, and audio clips