Episode #41
We're back! Had a baby. Got Kickstarted. And talked to three heroes.
Suzy Lynn Wikler, Sister Simone, Shannon Watts, and Garlin Gilchrist II: an all-star line-up
After an unprecedented seven-week hiatus, The Good Fight roars back to life with a record-smashing three-guest lineup—and the introduction of Ben Wikler's newborn daughter, Suzy Lynn. If you've been curious about what happened to your favorite Good Fight guests after their episodes, prepare for satisfaction: Sister Simone Campbell tells us why the nuns got back on the bus; hero mom Shannon Watts tells us how she's beating the NRA; and Garlin Gilchrist II makes us all want to follow him back to Detroit. Plus, great news about the Good Fight's Kickstarter.
Originally posted on February 26, 2015
Featuring
Powered by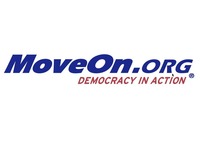 MoveOn.org
8 million progressives fighting for change.
Show Notes
Hear the original Nuns on the Bus episode with Sister Simone Campbell here. (Still our most popular episode to date!) Order Sister Simone's book, A Nun on the Bus,here.
Want to hear more from Moms Demand Action's Shannon Watts? Then this episode is for you.
Garlin told his Detroit origin story in Episode #30.
Music Credits

Dmyra - Leopard Skin Pillbox Hat
Zach Young - TGF Kickstarter video theme #1
DeeB - Bilk
FLIST - Dents de Fer
Fanas - Sunshine
Shenandoah & the Night - So Low, So High