Episode #29
Live from Netroots Nation 2014!
NEA's Lily Eskelsen García and NARAL's Ilyse Hogue join The Good Fight from Netroots Nation 2014
The soon-to-be legendary live taping of The Good Fight from Netroots Nation 2014! Hear amazing stories from NARAL Pro-Choice America President Ilyse Hogue and newly elected NEA President Lily Eskelsen García, thrill to a live Win Report with Garlin Gilchrist II, and march through the streets with Mark Ruffalo and a big crowd of Detroiters as they try to get their water turned back on. Netroots is a massive annual gathering of progressive activists, organizers, and media/tech people; featured speakers this year included Joe Biden and Elizabeth Warren. But the highlight of it all happened in room 320: The Good Fight Live.

Originally posted on July 20, 2014
Featuring
Powered by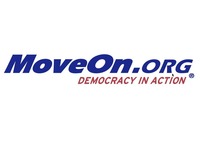 MoveOn.org
8 million progressives fighting for change.
Show Notes
WIN REPORT

WIN! The Washington, D.C. Council has voted to "ban the box," which prohibits companies from asking job applicants if they have a criminal record.
WIN! The awesome Laverne Cox makes history as the first transgender person nominated in an acting category at the Emmy Awards. Laverne, if you're reading this, please come be on the show! We love you!
WIN! The United Auto Workers forms a union local at Volkswagen plant in Chattanooga. We actually covered this as a loss on the show a while back: The state's GOP lawmakers
WIN! World Council of Churches divests from fossil fuels. This is a BFD, people: The council represents 300 churches with more than 590 million members in 150 countries. Even 350.org says: "The World Council of Churches may be the most important commitment we've received yet."
LOSS. GOP Rep. Renee Ellmers of North Carolina says in order to reach more women voters, male GOP politicians need to bring their message down to a woman's level. Yup, you read that right.
LOSS. Senate GOP blocked the Not My Boss' Business bill that would have reversed the Hobby Lobby decision. Still, the fight's not over.
LOSS. European Court of Human Rights said France's ban of full-face veils doesn't explicitly target Muslims. They have got to be kidding. Racism and xenophobia won, which means we all lost.
LOSS. Previous Good Fight guess Jose Antonio Vargas was arrested by Border Patrol agents in McAllen, Texas. Boo! But, WIN! Vargas was later released, and succeeded in calling nationwide attention to the immigration crisis at the border: An unprecedented number of children are attempting to cross the border by themselves, fleeing danger at home.
WIN! Detroit voters can now apply for absentee ballots via the city's smartphone app. This is great for ballot access, and part of a national trend toward making voting easier. Proud to see Detroit modeling this.
WIN! Federal judge rules California death penalty unconstitutional! A federal judge ruled that California's death penalty system is so arbitrary and plagued with delay that it is unconstitutional. According to The New York Times, this decision is expected to inspire similar arguments in death penalty appeals around the country.