Episode #25
Lawrence Lessig, Aaron Swartz, and the Super PAC to end Super PACs
How challenge and tragedy inspired a mega-plan to fight money in politics
What if you're doing the wrong thing with your life? That's what a 20-year-old Aaron Swartz asked Lawrence Lessig. In response, Lessig transformed his career, ending the work on Internet law that had made him famous and turning his sights on the impossible-seeming fight against money in politics.
Today, Lessig has an insanely audacious master plan to kick billionaires out of the political driver's seat: get a bunch of billionaires to donate enough money to crush any politician who refuses to support campaign finance reform. (Yes, he's aware of the irony.) To make THAT happen, he needs to show that corruption can be an election-winning issue. And to do that, he needs to raise $5 million from regular people, by July 4, for his anti-Super-PAC Super PAC, "Mayday."
On this wrenching, fascinating episode of The Good Fight, Lessig tells his story, lays out his plan, and explains how Mayday emerged from the desperation Lessig felt after Aaron Swartz's tragic suicide in 2013.
Originally posted on June 13, 2014
Featuring
Lawrence Lessig
Roy L. Furman Professor of Law and Leadership at Harvard Law School
Mayday
A Crowdfunded, Kickstarted super PAC to end all super PACs
Powered by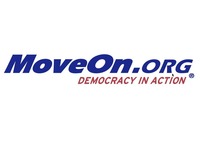 MoveOn.org
8 million progressives fighting for change.
Show Notes
Visit Mayday.us
to donate to Lawrence Lessig's Super PAC project. Go there to donate or check on the progress. Follow the progress toward 5 million dollars
here
.
Lessig's most recent TED talk, which we excerpt in the story, can be
viewed here
. In it, Larry lays out the Mayday project and talks about Aaron Swartz. The talk was delivered in March of this year.
Larry's
"Lesterland" TED talk
, which he mentions in the story, was given in February of 2013, shortly after Aaron's death.
Here's
a 2010 video interview with Aaron
from spunout.ie, in which he discusses his activist philosophy.
The Internet's Own Boy
is a brand-new documentary film about Aaron. Check it out.
The show opens with a clip from
The Flaming Sword of Justice,
the predecessor to
The Good Fight
. You can
hear that whole show here
. Ben's interview with Aaron begins around minute 43.
MUSIC CREDITS


Monster Rally -
Sun Bum
Zachary Young - Original music