Episode #22
You've got to hear this preacher
Rev. Jim Wallis on faith, Obama, and the least of these.
Rev. Jim Wallis left evangelical Christianity to fight for social justice—and then found his vocation by mixing them together. Now, he's a spiritual adviser to Obama, a force in immigration reform, and our guest. Plus: a new Win Report.
Originally posted on May 15, 2014
Featuring
Sojourners
Sojourners ministries grew out of the Sojourners Community, located in Southern Columbia Heights,...
Powered by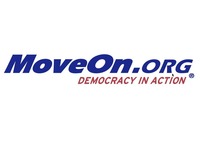 MoveOn.org
8 million progressives fighting for change.
Show Notes
Come to the
Global Health Justice Awards
on June 3rd, 2014 in New York City and see Ben receive the inaugural Next Generation Award. Can't go but still want to show your support? You can donate to the Health GAP
here
!
WIN: Michael Sam, the college football player who came out as openly gay earlier this year, was
drafted as the 249th pick
in the 7th round of the NFL draft. After he found out,
he posted a video
of the happy celebration with his boyfriend.
WIN: Thanks to student campaigning, Stanford has become the
first major university to divest from coal
. Their endowment was worth about $18 billion, and this will drive up the pressure for other universities to follow suit.
LOSS: Last week, the
Ohio Senate
voted to suspend renewable energy standards, along with their energy efficiency program. This is expected to sail through the House and governor's office.
WIN: An Arkansas Judge struck down the same-sex marriage ban. Dozens of couples got married on Monday, May 12th, but the Attorney General expected to appeal this decision.
WIN:
Mitt Romney
and the
Subway CEO
both agree—we should raise the minimum wage!
Vermont is also on track
to have the highest statewide minimum wage in the nation by 2018. Gov. Shumlin just needs to sign off on increasing min wage to $10.50/hr!
LOSSPORTUNITY: The FCC is responding to great campaigning from grassroots organizations about
net neutrality
. (update: after this podcast was recorded, the FCC began voting against
net neutrality
)
WIN: Pennsylvania Governor Tim Corbett finally
released $45 million
to Philadelphia public schools so that they can hire more staff. In addition to a
MoveOn petition
for this, many students were threatened with suspension after starting to protest outside of school.
They protested anyway
.
WIN: Minnesota Governor Mark Dayton passed the most progressive piece of legislation this year—
The Women's Economic Security Act of 2014
. This bill would require businesses with government contracts to certify that they are paying equal wages to workers, it bans punishment of employees who discuss pay, lengthens maternity leave, and does all sorts of other wonderful things for women!
MUSIC CREDITS

Shenandoah and the Night - "So Low, So High"
Wintermitts - "Le Paradis"
Citay - "On the Wings"
Tonstartssbandht - "Hymn Our Garden"