Episode #21
Beating the Koch brothers
The fight behind Citizen Koch, the documentary that the Koch brothers crushed... almost.
Normally, when you make a movie, you don't have to worry that your film's villain will mess with you in real life. Darth Vader didn't threaten the distribution deal for
Star Wars
. But for
Citizen Koch,
a documentary about money in politics after Citizens United, that's exactly what happened. Filmmakers Tia Lessin and Carl Deal join us today to share their story, the story of their flim—and how they're fighting back.
Originally posted on May 5, 2014
Featuring
Carl Deal
Director and Producer of Citizen Koch
Citizen Koch
The film that the Koch Brothers paid to have you not see
Powered by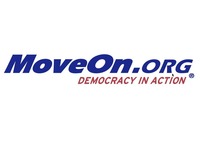 MoveOn.org
8 million progressives fighting for change.
Show Notes
Watch the trailer for Carl Deal and Tia Lessin's documentary Citizen Koch, the film the Koch brothers don't want you to see.
Watch the trailer for Roger & Me, Michael Moore seminal documentary film, which was released in 1989 and inspired Tia Lessin to be a documentary filmmaker.
Watch a trailer for Trouble the Water, Carl Deal and Tia Lessin's 2008 documentary film about a couple surviving New Orleans pre- and post-Hurricane Katrina. The film went on to win a Sundance Grand Jury prize, and was nominated for Best Documentary Feature at the 2009 Academy Awards.
MUSIC CREDITS
Royalty Free Kings - "Locked Up"
Royalty Free Kings - "Human Sacrifice"
Royalty Free Kings - "Empty Feeling"
Royalty Free Kings - "Forlorn"
Royalty Free Kings - "Twilight"
Podington Bear - "Euphoric"