Episode #18
The muckraker and the border patrol
How an investigative journalist revealed a Rodney King-style beating and changed the border debate
Everyone working at the border crossing knew that it was happening: brutal violence and abuses by border patrol agents. Sometimes even lethally. But the U.S. Customs and Border Protection wasn't talking, and politicians seemed more concerned with increasing its size and military power than in holding it accountable.
Enter John Carlos Frey, muckraker.
An investigative reporter of the old school, he got a tip about a secret videotape of a killing, in which a dozen border patrol agents brutally beat a hogtied migrant. Where thousands of reported abuses hadn't made a dent in official policy, maybe this video could spark a change. And so the dogged hunt began, leading to an expose that would trigger Congressional outrage, a buried investigation, and finally an official shift that could pave the way to lifesaving changes. On today's Good Fight, we examine the power of an image to awaken a nation to an outrage—and look at the dark side of the political drive to "secure the border."
Originally posted on April 10, 2014
Featuring
Powered by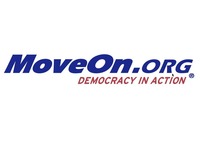 MoveOn.org
8 million progressives fighting for change.
Show Notes
LOSS: In 2013, Fox News segments on climate change were only accurate 28% of the time. In 78% of cases, they said something misleading. Still, that's a lot better than 2012—when their climate segments contained misleading statements 93% of the time.
WIN: CNN's climate segments were 70% accurate and 30% misleading. (Is that really a win? Yes, unfortunately, that counts as a win.)
WIN: MSNBC is 92% accurate! And in the 8% of segments with misleading statements, the problems were all hosts overstating the effect of climate change.
Great wins organized by OUR Wal-Mart:
WIN: With help from a
MoveOn petition
, the Nebraska School Activities Association
reversed its decision
to censor Michael Barth's award-winning poem on gender identity before he appears on a television show.
WINPORTUNITY: The Senate Intelligence Committee voted to declassify the CIA torture report. Now it's over to the White House to decide how much of it to not redact. Kudos to
MoveOn
and Just Foreign Policy for moving the ball forward on this!
WINPORTUNITY:
The Senate passed an unemployment insurance extension!
It is now off to the House, where, well, oy.
MUSIC CREDITS


Calexico - Ben To The Road
Calexico - Contention City
Podington Bear - Epiphany
Podington Bear - Stuck Dream
Podington Bear - By Grace