Episode #16
Guns in libraries, Hobby Lobby birth control, and happy dolphins
A mega Win Report of victories and defeats from the most important progressive fights in America.
An all-Win Report episode! The latest victories and defeats—plus a special Winportunity report from MSNBC's Irin Carmon, who just watched the Supreme Court argue over whether corporations can have religions... and if so, whether corporations like Hobby Lobby can refuse to cover birth control prescriptions for their employees.
In the Win Report proper, we cover Georgia's crazy new gun law, a ban on plastic bottles that will bring a smile to the heart of every bottle-nosed dolphin in the Pacific, and a bevy of other fights from across the country. Tune in, spread the word, and be sure to email us at show@thegoodfight.fm.
Originally posted on March 27, 2014
Featuring
Powered by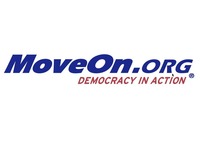 MoveOn.org
8 million progressives fighting for change.
Show Notes
Here's the other stuff we covered:
WIN! After a federal judge struck down the state's same-sex marriage ban,
300 same-sex couples married over the weekend
. Congratulations to the happy couples, but the fight goes on: Michigan has appealed the federal judge's decision, effectively freezing the overturn. Gov. Rick Snyder has said the state won't recognize the marriages until the appeal is over. Boo!
WIN! NYC Mayor
Bill de Blasio signs the city's paid sick leave bill
into law. Starting April 1, more than half a million New Yorkers will be able to take up to five paid sick days without fear of being fired.
Thank you
to A Better Balance, the Working Families Party, and other members of the New York City Paid Sick Days Coalition for organizing and taking action.
LOSS. Georgia governor plans to sign the
craziest gun bill in America
. This bill will allow guns bars, nightclubs and libraries, among other places. Oh boy.
WIN / WINPORTUNITY?
Obama is about to call for the end of NSA's bulk collection
of phone data. It's a win because Obama's made a significant reversal of his position on the NSA, thanks to the global outcry and
massive organizing efforts
by the Electronic Frontier Foundation, the ACLU and Demand Progress, among others. It's also still a WINPORTUNITY, though, because before the changes can take effect, it has to become law first. Pass it, Congress!
You can take action, dear Good Fighters! MoveOn is organizing a Day of Action events throughout the country on Obamacare and Medicaid expansion. Go
here
to find an event near you, and if you go, use the voice memo tool on your phone and email us an audio file at
show@thegoodfight.fm
— we'd love to include your voice in an upcoming episode!